Studying to become a chiropractor
Find out about how and where you can study to become a chiropractor
Knowledge, skills and requirements to become a chiropractor
Currently, five educational establishments in the UK offer approved degree courses in chiropractic (see Where to Study below). Although entry requirements do vary, five GCSEs, including English and maths, and three A-levels, including one science, are generally needed. It may also be necessary to undergo an enhanced background check.
As a valued healthcare profession, chiropractors work with a wide variety of patients who will rely on their skills and advice to help them lead as healthy and active a life as possible. The core skills which chiropractors must have are:
Knowledge of how the human body works
Empathy, sensitivity and understanding when meeting and treating patients
Teamworking and interpersonal skills
Attention to detail, both verbal and written
An ability to recognise your professional limits
Good reasoning and problem-solving skills
---
Download our Graduate Guide which contains answers to 14 of the most frequently asked questions about the GCC and registration
---
Course options
Chiropractic study in the UK is at degree level, either as an undergraduate honours degree or above, with most courses lasting four years.
During their studies, students must meet set standards (called learning outcomes) in the following areas of knowledge and skills:
The spectrum of chiropractic care, context and history
Assessing and determining the health needs of patients
Selecting and applying appropriate evidence-based care to meet the needs and preferences of the patient
Critically evaluating scientific research methods in the context of clinical practice
Communicating effectively with the public, patients and other healthcare professionals through verbal and non-verbal forms
Understanding the nature of professional accountability.
---
Where to study
The GCC approves programmes from the following institutions:
All chiropractic degree programmes from these institutions have met GCC Education Standards. Furthermore, the GCC is responsible for checking and rechecking the quality of all UK chiropractic education programmes. It does this by evaluating institutions and their chiropractic degree programmes against its Education Standards to ensure that new entrants can practise safely and protect patients from harm.
---
Hear from chiropractic students
Matthew Couldry MSci (Hons) Chiropractic at Teesside University
Katie Mihalovics Msci Chiropractic at Teesside University
Sam Tiley Master of Chiropractic at the University of South Wales (video)
---
Developed in collaboration with the AECC University College, this infographic provides one example of an educational path when studying chiropractic.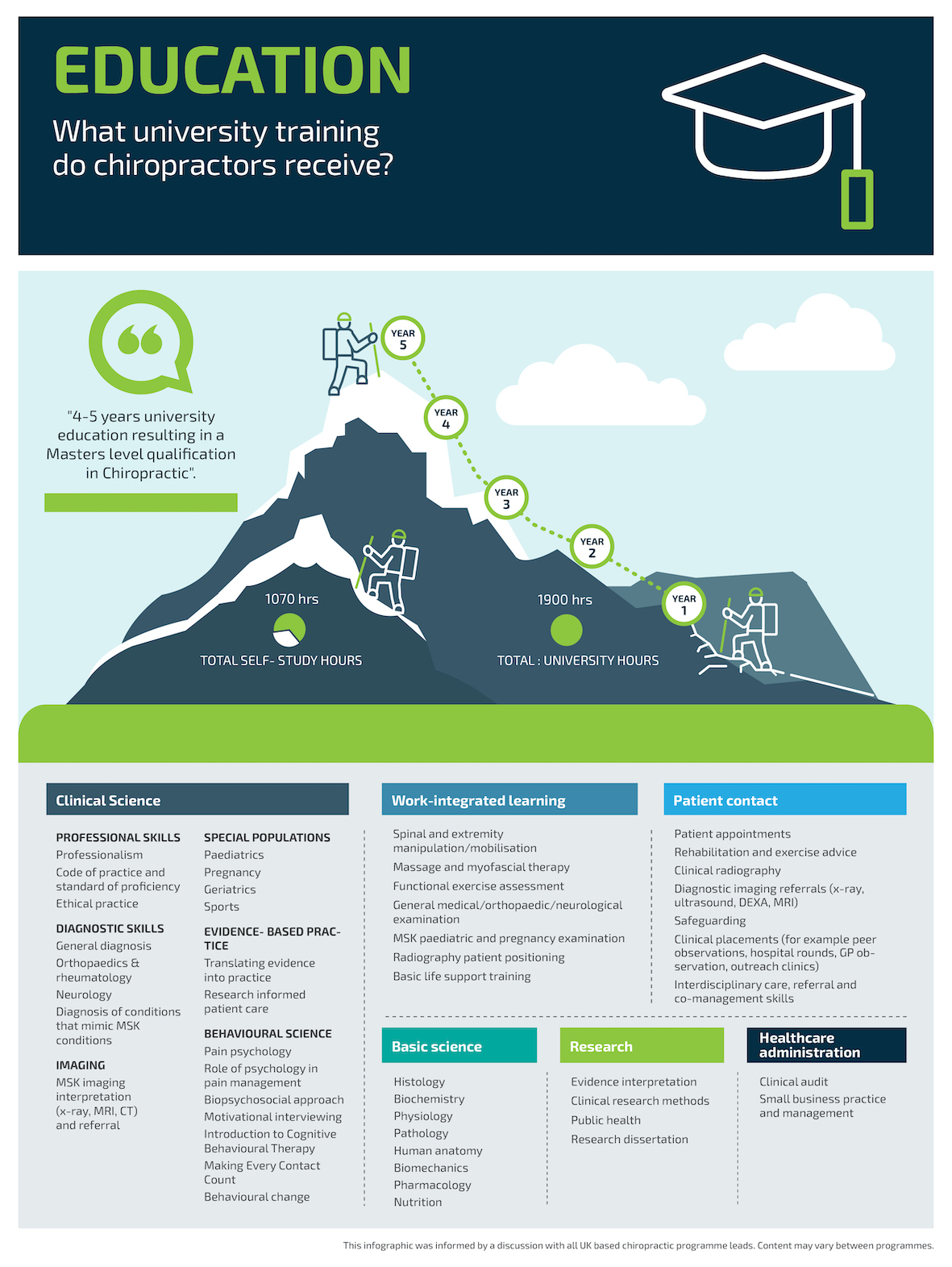 ---
Can I study chiropractic if I have a disability?
The GCC, its education providers and the chiropractic profession are committed to the principles of equality and diversity. The chiropractic profession can accommodate people from all backgrounds and with different capabilities, including those with disabilities and health conditions.
Education providers are legally bound to take all reasonable steps and/or adjustments to accommodate disabled students. They will assess every applicant against the entry criteria for the course. When reviewing any application, they will consider that the primary aim of a chiropractic qualification is to educate students to become safe and effective chiropractors who are fully capable of working as independent primary healthcare practitioners in various clinical settings.
As well as the support that education providers can offer through making reasonable adjustments, some individuals may also be eligible for a Disabled Students' Allowance (DSA). Further information can be found on each education provider's website.