Studying Chiropractic
Learn about where and how you can study chiropractic.
Chiropractic study is at degree level – undergraduate honours degree or above.
Chiropractic students typically study for four years to gain their chiropractic degree. During their degree course, students must meet set standards (learning outcomes) for the following areas of knowledge and skill:
The spectrum of chiropractic care, context and history
Assessing and determining the health needs of patients
Selecting and applying appropriate evidence based care to meet the needs and preferences of the patient
Critically evaluating scientific research methods in the context of clinical practice
Communicating effectively with the public, patients and other healthcare professionals through verbal and non-verbal forms
Understanding the nature of professional accountability.
We have a legal responsibility to check the quality of all UK chiropractic education programmes that lead to us registering a chiropractor. We do this by evaluating institutions and their chiropractic degree programmes against our Education Standards. We do this to make sure that new entrants to the profession are able to practise safely and patients are protected from harm. To find out more about how we do this, or to read our approval reports, click here.
---
Have a look at this infographic, which has been develped in collaboration with the AECC University College and provides a snapshot of the educational path chiropractic study will take you on and an overview of some of the skills you will gain and the training and learning you will acquire.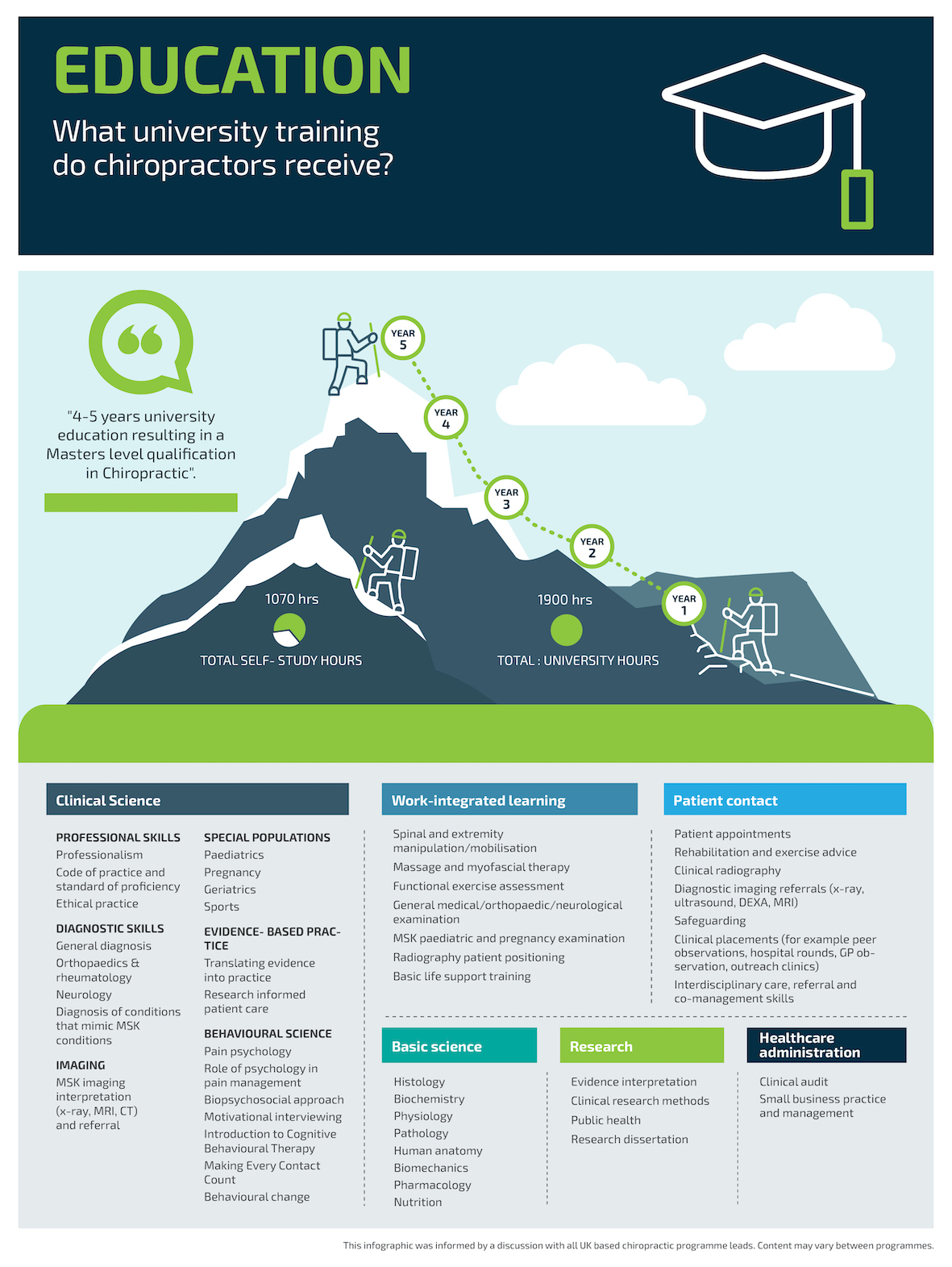 ---
Where to study Chiropractic
We approve programmes from the following institutions.
All of the chiropractic degree programmes from these institutions have met our Education Standards. You can find more about each of the programmes by visiting their websites:
We are not able to advise you on which education provider you should apply to. It is up to you to decide which education provider and programme is most likely to meet your needs.
---
AECC University College
13-15 Parkwood Road, Bournemouth, Dorset BH5 2DF
01202 436 200
---
London South Bank University
103 Borough Road, London SE1 0AA
0800 923 8888
---
The McTimoney College of Chiropractic (MCC) – Abingdon
(4 and 5 year programmes)
McTimoney House, 1 Kimber Road, Abingdon, Oxfordshire, OX14 1BZ
01235 523 336
admissions@mctimoney-college.ac.uk
---
The McTimoney College of Chiropractic (MCC) - Manchester
(5 year programme)
St James Building, 79 Oxford Street, Manchester M1 6FQ
01235 523 336
admissions@mctimoney-college.ac.uk
---
Teesside University
(4 and 5 year programmes)
Teesside University, Middlesbrough, Tees Valley, TS1 3BX.
01642 384100
---
Welsh Institute of Chiropractic
University of South Wales, Pontypridd, Glamorgan CF37 1DL
08455 767 778 (enquiries and admissions)
Can I study chiropractic if I have a disability?
The General Chiropractic Council, our education providers and the chiropractic profession as a whole are committed to the principles of equality and diversity. The profession can accommodate people from a range of backgrounds and with different capabilities, as well as those with disabilities and health conditions.
You can find out more about what counts as a disability here.
Education providers will assess every applicant on an individual basis on their own merits against the entry criteria for the course. When considering an application, they will take into account the fact that the primary aim of a recognised chiropractic qualification is to educate students to become safe and effective chiropractors who are fully capable of working as independent primary healthcare practitioners in a variety of clinical settings.
By law education providers must take all reasonable steps to make adjustments to accommodate disabled students. Find out more about higher education providers' duties under the Equality Act 2010 here.
As well as the support which educational providers are able to offer by making reasonable adjustments, some individuals may also be eligible for a Disabled Students' Allowance (DSA).
For expert information, advice and support on discrimination and human rights issues and the applicable law, phone the Equality Advisory and Support Service (EASS) on 0808 800 0082, email eass@mailgb.custhelp.com or visit the website.